MSc Business Psychology with Coaching
Within our suite of Business Psychology Masters programmes at Heriot Watt University, we have our dedicated MSc Business Psychology with Coaching programme being offered at both our Edinburgh and Dubai campuses.
Accreditation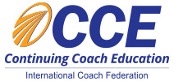 This programme is accredited by the International Coach Federation (ICF) as Continuing Coach Education (CCE). Therefore, a number of hours from the MSc courses can be used to apply for the personal credentialing process should the student wish to pursue accredited Coach status with the ICF. A certificate will be issued on completion of these hours.
Career
The practical, and theoretical focus of the programme ensures that graduates are able to make a positive and effective contribution through coaching practice with learning from Business Psychology. This may be through taking the degree into a career in coaching in the workplace or as a step to becoming an accredited Coach in other contexts such as Education, Counselling, or Sports. The skills developed through the programme can be applied in the workplace through various wider roles e.g., management, consultancy, HR, as well as through specific coaching roles e.g., Executive Coach, Talent Management, Career Coaching, Mentoring.
---
Want to Know More About Our MSc Business Psychology with Coaching?
MSc Business Psychology with Coaching in Edinburgh